Steve's Sports is up and running and processing your orders!
We hope you've all been doing well and we look forward to seeing you soon!
You've come to the right place for all of your screenprinting and embroidery needs!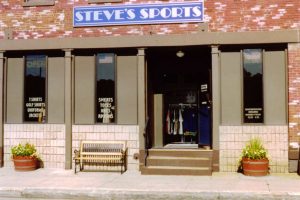 There's no time better than the present to think about how you, your group, your team and/or your company will need sweatshirts, jackets or uniforms for the upcoming season! We're currently filling out orders for many sports teams in the area, along with businesses that are savvy enough to know that a well dressed team is a happy team! If you're thinking it might be time to take the next step and outfit your team or your company, the time is right! With our first rate customer service and "fan friendly" pricing, Steve's Sports offers you a combination that can't be beat!
You want to do something, but you're just not sure? Tell your family, your friends, your team or your employees just how special they are by giving them something that never goes out of style! Custom designed sportswear from Steve's Sports! So don't be afraid to click here and check out the whole catalog! It's got all four seasons covered! Steve's Sports offers everything from t-shirts to tote bags, hats and golf shirts, fleecewear, jackets and so much more!
By all means, if there's anything we can do to make your experience with Steve's Sports better, please click here to send us an email! And of course, you can always give us a call here at Steve's Sports headquarters at 413-746-1696. Showroom hours are Monday through Friday from 10AM to 6PM. Thanks for checking out Steve's Sports.com and remember that no matter what your choice, Steve's Sports will handle your project in a timely and professional manner. Thank you!
Don't forget…YOU'RE #1 AT STEVE'S SPORTS!